Frequently Asked Questions
Booking and prices
It's a snap with Larsen's instant booking system. The whole booking process from start to finish takes place on the website: first you choose your favourite room, then you book a showing if desired, and finally you sign the agreement online and make the payment. We describe the whole booking process for you: - Enter the dates you're interested in
here
. - Select the appropriate filters from the side menu (filters allow you to quickly find the room you want. For example, you can choose a specific house location, room type, a house with a balcony or terrace, gym, etc.). - You will be shown a list of all the rooms that are available on your requested dates that match your filters. If you want more choices, remove a filter or two and let us surprise you! - You can also sort the rooms by price or size. - Clicking on each room will bring up more information about it and you can also book a showing to see the room in person. - If you want to book a room, click on the button Book now. - Next, you can choose additional services and add-ons if you wish. - You will then be directed to a form where you can enter your details. - And after that, it's time to sign the agreement. If you want to read through the agreement before booking, you can do so
here
. - After concluding the contract, only the last step remains: payment. If you book more than 30 days in advance, only a booking fee will initially be charged. If you book less than 30 days in advance, the booking fee, security deposit, first month's fee and utilities (+ additional packages or services if ordered) must be paid immediately. - Congratulations, your reservation has been confirmed! - If you wish to cancel your reservation, you can read about the conditions below in the Cancellations section. Note: If you want to stay with us for a shorter period than a month, book here: larsen.cloudbeds.com
What are the prices of the rooms and what does the price depend on?
We use dynamic pricing, which means that the prices of the rooms depend on the occupancy of the house. The price of the room is also affected by room type. The monthly utility payment consists of three parts – 1) a fixed part 2) maintenance fee and 3) a variable part that will depend on the actual energy price. The variable part includes heating, water heating, and electricity.
The utility price also includes events organised by the Happiness Manager, field trips, group trainings conducted by the trainer, high-speed WiFi throughout the house, use of all common areas, use of the fitness area (at Campus House and Stereo House) and fast and helpful customer service. The deposit is one month's fee (excluding utilities) and the one-time booking fee is 249€ (excluding utilities).
What additional services and packages can I order or purchase?
We offer customers the opportunity to purchase additional packages that make arrival more convenient: - Master Chef – everything you need to cook and then enjoy the food (plates, mugs, glasses, cutlery, pot, pan, kitchen utensils, kitchen towel, cutting board, hot plate), price 99 EUR. - Clean sheets – everything you need for sleeping and washing (blanket, pillows, bed sheets, towels), price 99 EUR. As an additional service at each house, we also offer parking in a gated yard (price varies from 29-39 EUR, depending on the house). Parking is subject to availability. Cleaning service: 1) 1x per month, price 24.90 EUR / month 2) 2x a month, price 39.90 EUR / month 3) 4x per month, price 59.90 EUR / month
Can I sign an agreement for any period I wish?
We sign contracts for a period of 1-12 months. If you want to stay with us for less than one month, book here: larsen.cloudbeds.com We will always give you the opportunity to extend the contract before it expires. You can read about the extension of the contract below in the Extension section.
How can I pay for my booking?
It is possible to pay either by credit card (Visa, MasterCard) or via Estonian bank links (Swedbank, SEB, LHV, Coop, Luminor). All payments are made in euros. Stay Larsen OÜ is the controller of personal data and forwards the personal data necessary for making payments to the processor, Montonio.
Houses and room types
What houses and room types can I choose from?
At Larsen, you can choose between three houses and several different room types: comfortable studios, modern lofts, two-room units and units with shared facilities. Our rooms are fully furnished so that you can check in as quickly as you want. When you book a specific room, you will see in more detail what is included. All Larsen houses also have spacious common areas for all customers to use and enjoy: At Eduard House you will find a lobby with table games like air hockey, various board games and a small library nook. At the quiet co-working room you can focus on your studies or work in peace while admiring the magnificent view. On the spacious rooftop terrace you can enjoy the sunset, breathe in the fresh air or read your favourite book in the comfortable hammock. In addition to the open-plan community space, Rocca House has a TV lounge for movie nights or Xbox games with neighbours, an outdoor terrace and a green area with exercise equipment, a basketball hoop and table tennis. Each room also comes with its own balcony! At Campus House, you can work in the meeting room or spacious community space, sunbathe on the rooftop terrace, play Xbox with friends in the TV lounge, work out in the fitness area or enjoy the lush outdoor area with a ping pong table. Each room also comes with its own balcony! At Stereo House, you can take calls in small meeting rooms or organise a seminar at the large meeting room, enjoy the spacious community space with a fully functioning kitchen and bar, sunbathe on the rooftop terrace, play Xbox with friends in the TV lounge and work out in the fitness area. Each house has high speed Wi-Fi. All customers can also park their bicycles in the bicycle house and use the bicycle service point. Car users have the opportunity to park their vehicle in a gated car park for an additional fee. At all three houses you will also find Cleveron parcel lockers. Rocca House and Campus House have laundry facilities for customers to use, with washing machines, dryers and ironing facilities. Eduard House has a washing machine with dryer in every room. You can read more information about houses here: - Eduard House - Rocca House - Campus House
Can I get a tour of the room?
You can conveniently book a virtual or physical tour on our website. To do this, go to the booking page larsen.ee/search, select the room you are interested in, and click on the Book a tour button. You can now select the date and time on the calendar. We offer you a video consultation and the opportunity to see it in person with our accommodation adviser. If you choose the first option, we will agree on a time to Introduce you to the possibilities of the house and room online. A visit with an accommodation adviser is an on-site tour, where you meet at a time agreed with the accommodation adviser at the house you are interested in, and they will introduce you to the possibilities of the house and the room of your choice. Our calendar lets you see in more detail when tours are available.
Arrival
Can I check in on a date of my choosing?
Exactly. At Larsen, you can choose your arrival and departure dates. If you arrive or leave in the middle of the month, we calculate the monthly fee on a daily basis for the first and last month.
We are ready to welcome you from 16:00 on the day of arrival specified in the contract. Our houses use smart locks, which means that the buildings can be accessed either with a personal code, mobile access or a key card without any contact or need for a physical key. Detailed information about arrival and access will be sent by e-mail immediately before arrival.
How is the room handed over?
As our houses have smart locks and there is no administrator, it's all contactless! You will receive all the necessary information by e-mail so that you can settle in comfortably and independently. Upon arrival, we will send you a transfer deed, which sets out the condition of the room in detail. If you notice any discrepancies, it is very important that you notify us immediately so that we can add them to the transfer deed. Based on the information contained in the transfer deed, we will inspect the unit after leaving and on the basis of this we will make a decision as to whether any damage has occurred.
In your new room
Can I share a room with a partner?
You can stay at Larsen alone or with another person – there is no extra charge. The exception is Eduard House's Shared Room, where one bedroom is for single use only. You can invite friends to visit at any time.
Can I bring my own furniture?
All our rooms are fully furnished, so there's no need. Unfortunately, it is not possible to book a partially furnished or unfurnished room.
Are there any house rules to follow?
We appreciate your respect for our house rules, which you can read here:
https://storage.googleapis.com/larsen-api-prod/production/media/2021/07/larsen-house-rules.pdf
We are grateful if you consider other customers of the house as well. For example, we recommend that you do not consume alcoholic beverages in public. Smoking is strictly forbidden in all houses (including outdoor areas). Quiet hours are Monday to Friday from 22:00 to 06:00, Saturday and Sunday from 00:00 to 08:00.
We also welcome smaller breeds of domestic animals, such as hamsters and guinea pigs. The security deposit doubles if you have a cat: If you have a question about whether your pet is welcome at Larsen, contact our customer support!
How is the monthly payment made?
Monthly invoices are issued on the first business day of each month and must be paid to our bank account by the 5th of the month.
Can I change rooms during my stay if I want to?
Of course, if there are vacancies. 100 EUR (cleaning fee + administration fee) will be charged if you switch to a different room.
What to do if something breaks in the room?
If something breaks in the room or there is another problem, we kindly ask that you let us know immediately. We offer repairs so that the problem can be solved quickly. We assess the cause of the damage on a case-by-case basis and how much should be paid, if anything.
Departure
Can I terminate the contract early?
The contract can be cancelled with 30 days' notice, but you have the right to continue using the room during this period. If you want to leave immediately, the agreement will expire in 30 days and that period must still be paid for.
Do I have to clean before I leave?
We expect you to return the room just as clean as when you received it on the day of arrival. However, we always charge an additional cleaning fee of EUR 94, which will be deducted from the security deposit before it is returned. This is necessary because after leaving it is always necessary to perform a more thorough clean, which the customer cannot perform themselves. If the room is not cleaned, a double cleaning fee of EUR 188 will apply.
On the date of termination of the contract, the room must be vacated no later than 12 noon. After that time, the electronic access also expires. Please take all your belongings with you and please take out the trash. We are not responsible for things left in the room.
How is the room handed over upon departure?
There is no physical handover. After departure, we inspect the room according to the transfer deed prepared on arrival. If everything is in order and in the same condition as on the deed of transfer, we will return the security deposit in full (minus the cleaning fee of 94 EUR) within 2-4 weeks. Should there be any additional damage to the room that was not listed on the deed, we will send you a notification and assess each case of damage separately. In this case, the return of the security may be delayed until the damage has been repaired.
Extension
How is the agreement extended?
If you know early on that you would like to extend, please notify our customer support via email and leave the rest to us. We will also send you a reminder about a month and a half before the end of your contract so that you can conveniently extend your contract by simply replying to the message. The contract will be extended at current rates. If you extend the contract for 6 months or more, a booking fee will not be charged. However, if you extend for less than 6 months, a booking fee of 99 EUR will be charged. If you initially extend for 6 months, but still decide to leave earlier, the booking fee will have to be paid after the fact. If you notify us 30 days before the end of your contract that you wish to extend, we guarantee you this opportunity. However, if you wish to extend with less than 30 days' notice, we may not be able to offer you an extension.
Cancellation
What happens if I want to cancel my contract before arrival?
If you booked a room but want to cancel it 14 or more days before the start of the contract: If you have signed the contract and paid the invoice, but you realize that you won't be coming to Larsen, we'll refund the full amount except the booking fee. If you booked a unit but want to cancel the booking less than 14 days before the start of the contract: only the security deposit will be refunded, i.e. the booking fee, the price of the stay, utilities and add-ons will not be refunded.
What happens if I want to cancel my contract after arrival?
The contract can be cancelled with 30 days' notice – you can continue to use your room during that period. You can also leave earlier, but you will still have to pay for the 30 days after giving notice.
Green Larsen
What does Larsen do for the environment?
"What is environmental awareness?" is no longer the question we're asking, as we want to know how to increase our environmental awareness and what we can do for our environment. We cannot save the world in a day, but taking green steps together has a bigger positive impact on the environment.

Larsen's mission is to educate the residents of Larsen houses and guide them to making greener choices. For this purpose, Larsen has shared laundry rooms, bicycle parks, waste sorting and, in the future, composting possibilities. One of our priorities is to encourage the residents of Larsen houses to prevent and reduce the generation of waste.

Larsen has been awarded with the international ecolabel Green Key and we actively work with environmental and sustainability issues by following the Green Key comprehensive criteria. Green Key is a leading international eco-label awarded to accommodations and other hospitality facilities that commit to sustainable business practices.

How is waste sorted in Larsen?
Larsen has provided its residents with the possibility to sort their waste in six different categories: mixed municipal waste, mixed packaging, biowaste, paper and cardboard, glass packaging and batteries. Special bins for cigarette butts have also been installed in Larsen houses.

In order to make finding information on waste sorting as easy as possible for the residents, each accommodation unit has QR codes, which the residents can scan to gain access to sorting guidelines and tips on how to be greener today than it was yesterday :).
What happens to sorted waste next?
All the waste collected separately in Larsen will be sent off for further handling:


Biodegradable waste placed in a composter at a composted site. Compost is used in the landscaping of Larsen's house. Biodegradable waste placed in a bio-waste container is sent to a composting yard, where it is turned into compost soil.



Packaging waste, paper and cardboard are taken to follow-up sorting, where the material suitable for recycling is separated and released for circulation;



mixed municipal waste is incinerated to generate energy and heat;



batteries are recycled into new ones or the materials in them are used for the production of other goods;



all cigarette butts placed in the special bins are recycled with the help of artist Ines-Issa. Ines uses the butts to create environment-themed sculptures and also for research where she is looking for ways to recycle the filters on cigarette butts. The artist's goal is to achieve an environmentally friendly, reusable plastic material that would also be biodegradable. Keep an eye on Ines's work here: Instagram @inesvillido,

www.inesvillido.com

Why should waste be sorted at all?
An international waste handling hierarchy has been established and it lists various activities in respect of their environmental impact.

Attempts to prevent and reduce waste generation is the highest priority. In order to achieve this, we all have to take a look at our consumption and behavioural habits and understand that waste is a resource, not useless rubbish. We generate less waste when we consume high-quality, long-lasting, non-toxic and resource-efficient products.

This is at the top of the hierarchy, followed by sorting the waste that has been generated, which helps reduce the quantity of waste that requires recycling. The waste that is generated should be reused (e.g. new jam should be put in an empty jam jar or clothes should be bought second-hand) first of all, which is followed by composting or released for circulation (e.g. waste paper is used to make new paper).

Incineration of waste holds the penultimate place in the hierarchy - although it generates thermal energy and electricity, any material in the waste that could be recycled is also burned in the process. Depositing waste in a landfill is the least advisable option of waste handling, as it removes valuable material from circulation and creates an extra burden on the environment.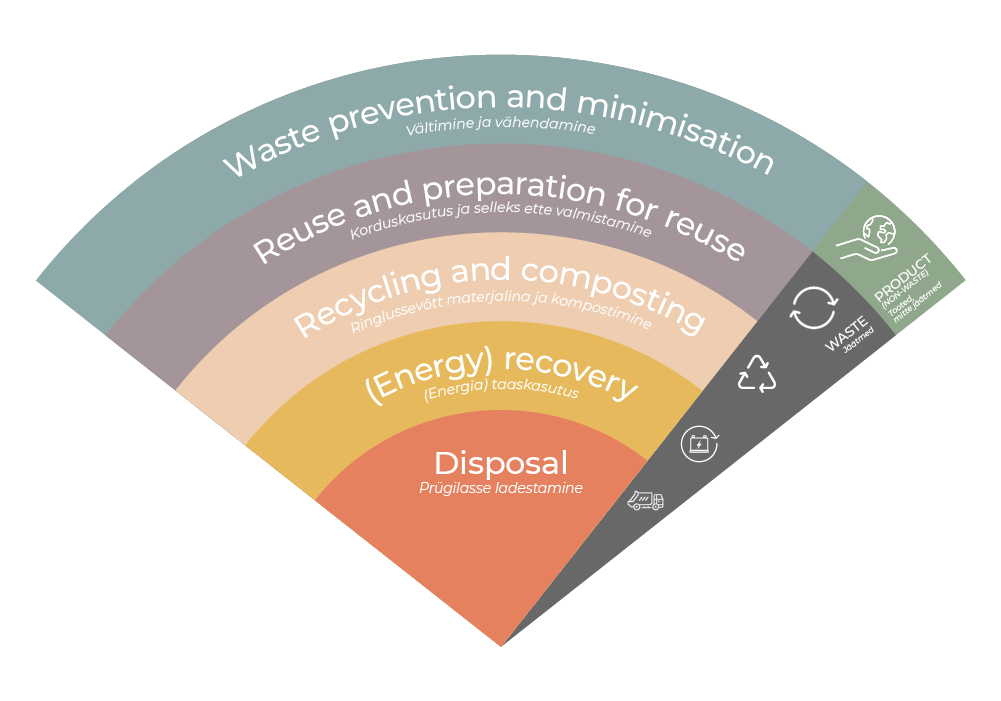 Cigarette butts are the biggest polluters in the world. Cigarette butts are the top plastic polluters, with an estimated two-thirds of the trillions of filters used each year tossed into the environment.
We throw away 7.2 million tons of food every year, and more than half of it is perfectly edible.
Humans now buy a million plastic bottles a minute. Most of this plastic ends up in the ocean. By 2050, the ocean will contain more plastic by weight than fish.
The earliest account of waste recycling was in 1031 in Japan! The earliest account of waste recycling was in 1031 in Japan! They found a way to recycle paper, and sold it again as new in shops.
With 25 plastic soda bottles, you could make one adult sized fleece jacket.
How many resources are really spent on making disposables. Thought-provoking video:

Story of Spoon
Did you know that about 1/3 of our mixed municipal waste is biowaste



Contacts
Customer support helps with everything from the time you arrive at Larsen. Gerda and Kadi are reachable from 9:00 until 17:00.
For short-term bookings (up to one month), please use the following contact details: +372 600 7373 booking@larsen,ee
For long-term bookings (more than 30 days), please use the following contact details: +372 600 6440 support@larsen.ee
Happiness Manager
Who is our Happiness Manager?
Our Happiness Manager makes sure that life in the house stays at a nice simmer and no one gets bored. The Happiness Manager is always organising cool events, trainings and other activities that create opportunities for people to get to know each other and create a sense of community. The Happiness Manager is the heart of every house. The goal of the Happiness Manager is to provide all those who come to Larsen with the most memorable experience possible, to help them feel more at home and settle in faster. In addition to events, Larsen offers its customers exclusive offers from our partners and surprises you with nice gifts from time to time – to make every day an experience!
What events does the Happiness Manager organise?
Our Happiness Manager tries to cover as many topics as possible so that everyone can find something to their liking. As a result, monthly events may vary from year to year or from one house to the next. So far, for example, we have discovered the beautiful nature of Estonia by bus, danced Silent Disco in the common areas of the house, participated in an Estonian Christmas party at the Estonian Open Air Museum and enjoyed a warm summer evening on the terrace, DJ music and laughter in the background. No idea is ruled out – as long as there's interest, we can arrange a Larsen open mic stage or go on a memorable old town pub crawl. The aim of each event is to offer good emotions, unforgettable experiences and to encourage you to take advantage of all the benefits of Larsen's houses.
What clubs does Larsen have?
Eduard House, for example, has two clubs: an art club, to let your creativity loose, and a fitness club, which includes both yoga and strength training in the common areas of the house (indoors in winter, on the roof terrace in the summer). Participation in these clubs is voluntary and free of charge for all customers. The aim of the clubs is to make it possible to get to know other people through joint activities – maybe you'll find a board game playing partner, a conversation partner or, why not, the love of your life :)